The Vikings Exhibit, Melbourne Museum
Combing through the darkened gallery full of fragments of ancient Viking culture, I'm captivated by a tiny illuminated piece of gold:
It's an ancient pendant of gilded bronze, bearing the image of a peacock, a symbolic representation of Jesus Christ and eternal life - found in a grave site in Uppland, Sweden... one tiny artefact in the display on Scandinavian Christianity, that is a corner of the larger Vikings: Beyond the Legend archaeological exhibit at the Melbourne Museum. The pendant is small, warm and beautiful, barely 1 cm across. Who was its owner? She (or he?), lived sometime in the years 750-1100 CE — and now 1000 years later, we are invited to imagine her or him, wearing this precious adornment. The small hammered gold peacock image is so alive, it would have shone brightly against the wearer's skin or clothing.
Below, another Viking era Christian symbolic image on an elaborate silver brooch, also found in a gravesite: four sculpted deer gather around a well, (or fountain or mountain) from which four rivers flow. "The Well of Life" imagery here is attributed to Psalm 42 of the Old Testament. According to the curatorial writings, artefacts like these are evidence of not one Christianisation but many in Scandinavia, over a large territory and a long period of time.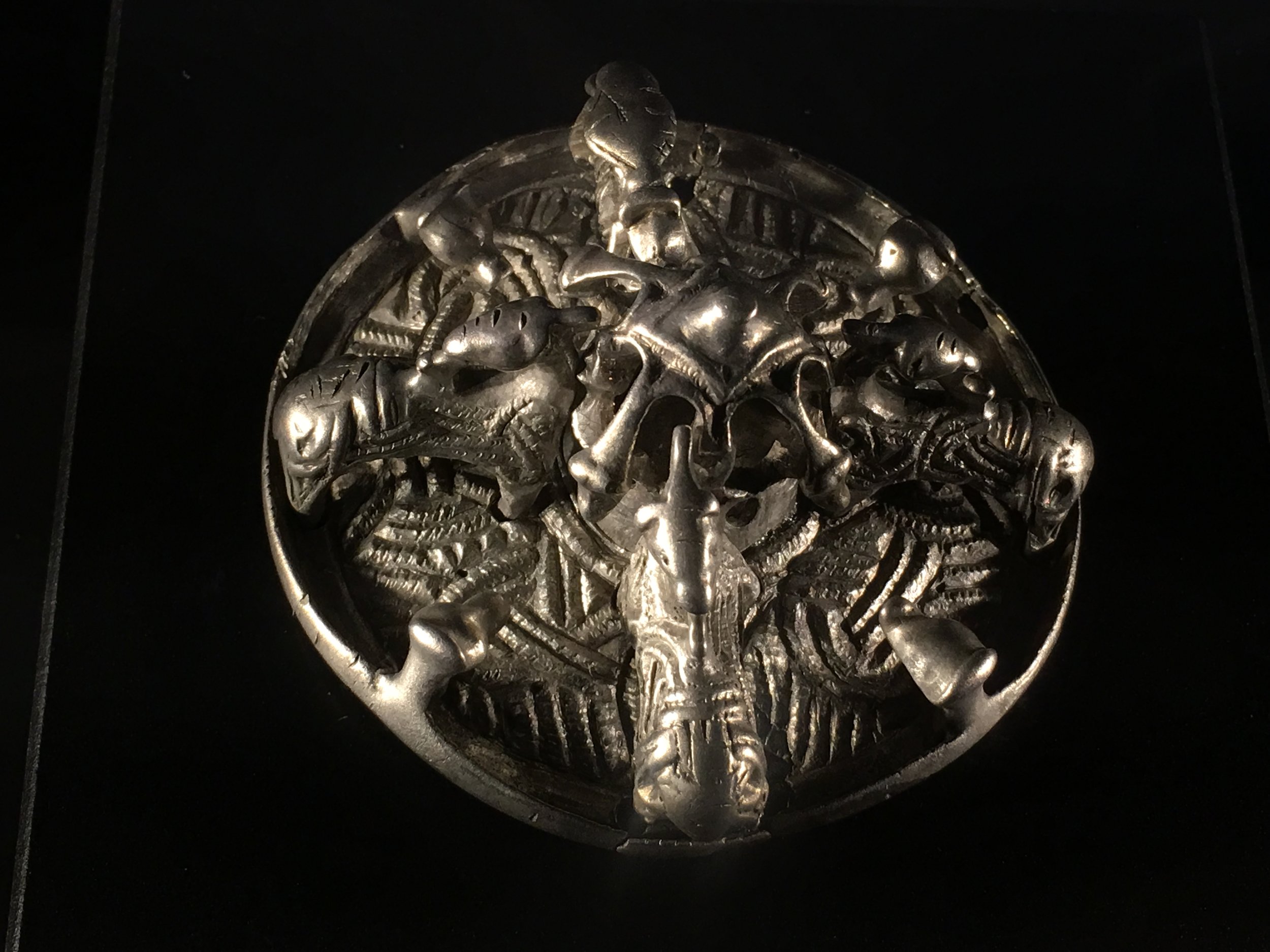 The Vikings exhibit overall is a rich, contemplative visual environment of archaeological material from ancient Norse mythology, craft, dwellings, clothing, weaponry, jewellery, boat-making and picture stones. What a rich civilisation and time period this was. Through a series of story-like experiences, this exhibit argues that "The Vikings," as we like to call them, as a people were not the tall, warlike race of plunderers that we imagine from the worlds of opera and popular culture — but rather agrarian people who sometimes "went Viking" - a fluid concept of going out that could have included all kinds of travel, invasion, seafaring, exploring or even hunting and trading activities. It's a detailed collection of mostly tiny, fascinating objects, like peering into an archaeological dig. For display here in Australia the curators have removed any human remains (fragments of bone) from this exhibit, showing respect for the wishes of Indigenous people here who may become distressed upon seeing remains of the dead.
One of the most evocative parts of the exhibit for me was the suspended set of ancient bronze nails, held by wires in space, showing their position in the timbers of a boat long ago decayed.
Below: Picture stones showing Valhalla and other imagery; nails from a Viking boat; a silver cross; jewellery made of gold, silver, and beads; hammered bronze; a stone engraved with runes. (All photos by Catherine Schieve - click to enlarge slides)
Above: Ancient Viking nails, once used on the timbers of a boat. Photos by Catherine Schieve
- with thanks to the Melbourne Museum / 27 July 2018